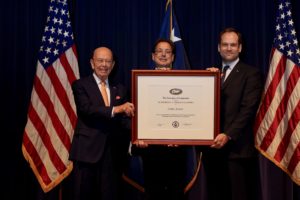 U.S. Secretary of Commerce, Wilbur Ross, presented Global Airtech with the President's "E" Award for an outstanding contribution to the Export Expansion Program of the United States of America at a ceremony in Washington, D.C., on May 21. The President's "E" Award is the highest recognition any U.S. entity can receive for making a significant contribution to the expansion of U.S. exports.
In total, Secretary Ross honored 43 U.S. companies and organizations from across the country with the President's "E" Award for their role in strengthening the U.S. economy by sharing American ingenuity outside of our borders.
U.S. companies are nominated for the "E" Awards through the U.S. Commercial Service, part of the Department's International Trade Administration. With offices across the United States and in embassies and consulates around the world, The International Trade Administration lends its expertise at every stage of the exporting process by promoting and facilitating exports and investment into the United States; administering Anti-Dumping and Countervailing Duties orders; and removing, reducing, or preventing foreign trade barriers.
U.S. exports totaled $2.33 trillion in 2017, accounting for 12 percent of U.S. gross domestic product. Exports supported an estimated 10.7 million jobs nationwide in 2016, according to the most recent statistics from the International Trade Administration.
About the "E" Awards
In 1961, President Kennedy signed an executive order reviving the World War II "E" symbol of excellence to honor and provide recognition to America's exporters. Criteria for the award is based on four years of successive export growth in one or more international markets.